Your Printed Sales Pitch
If you've been thinking, "I have a web site, I don't need to print brochures," we're glad to hear that you value marketing and chose to invest in your online image! But how are you going to get people to visit your site?
A brochure is a necessary piece of marketing collateral that can serve as a tool to drive potential customers to your site to learn more about your products and services. A brochure with crisp photos, imaginative copy, and a great offer are will help you build interest in your company.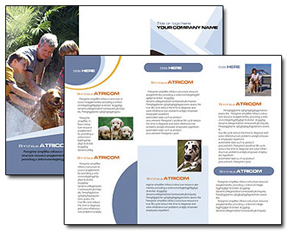 Give Your Brochures the Wow Factor:
Rich Full Color
Quality Glossy or Matte Stock
Choice of Four Brochure Sizes
Short Print Runs Available
Request a quote today.Choose your quantity, brochure size, paper, and folding style and find an option that's in your budget. Upload your own files orrequest our design services.