Make an Impression with 7 Square Inches
We love printing business cards! Our customers always have a great reason to print new cards.
A new business card is one of the first things you do when starting an exciting new business venture. Holding your card in your hand is a tangible way of knowing that you really did it, you took a big first step towards your dream.
Then we get those awesome "I just received a promotion and need new business cards with my new title!" calls.
Business cards worth noticing:
Rich Full Color
High Quality Coated Stock
Heavy 14 pt Cover Stock
Short Runs Available
And of course the "We just outgrew our offices and relocated to a different space and need to update our business cards with the new address" calls always put big smiles on our faces!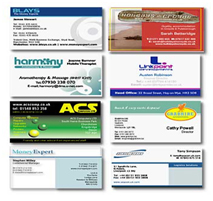 But don't worry, if you're just calling up to order more cards because you've expanded your network and handed out all of your old ones, you'll still get our applause, because we all know the value of successfully building new business connections.
Choose your paper stock, opt for single-sided or double-sided printing and select your quantity. Upload your own files, or request our design services.